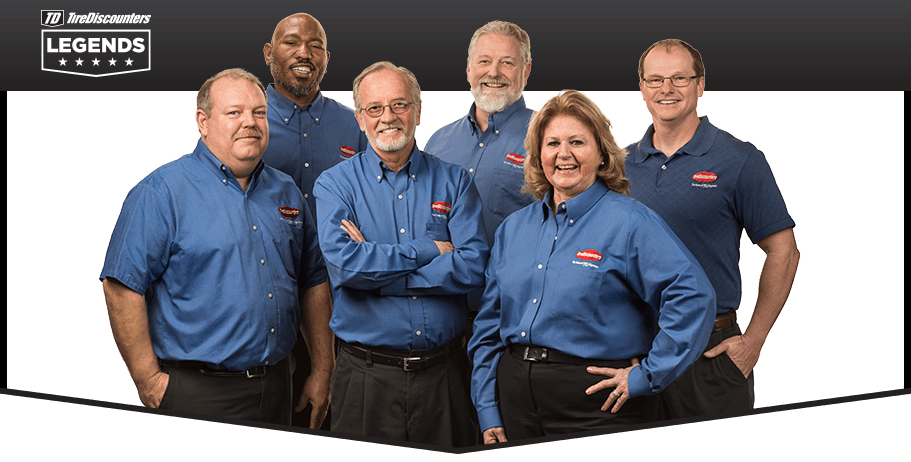 At Tire Discounters, we hang our hat on quite a few big claims: "The Home of Free Alignment", and "Higher Standards" are bold statements to make, and can only be backed up by the most caring, and talented employees in the industry. While we spend thousands of hours a year training our employees to be successful in their roles, there will always be those who stand out, continuously out pace goals, and set the bar for all of us. We refer to those select individuals as "Legends".
A TD Legend is an employee who has continuously gone above and beyond the call of duty year after year and in doing so, made themselves into the embodiment of Higher Standards. TD Legend status is the pinnacle of achievement within Tire Discounters as we only name a couple Legends each year. With over 1100 employees, that definitely makes this a great accomplishment.
Take a minute to read about our current TD Legends and you will begin to see what makes your local Tire Discounters different. Their stories show that we are just as much of a family as we are a business and we truly want to treat you like part of that family.
Brenda: Visit her at our Eastgate location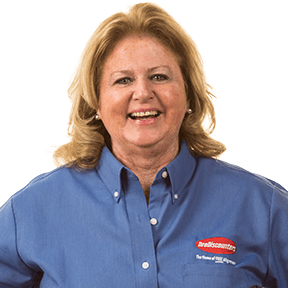 Brenda joined TD in 1994 as Assistant Manager at our Cold Spring location. She remained there for a year, then began traveling as a floating manager. In 1995, she opened our Eastgate location. She has since helped TD open up 15 new stores over her tenure before returning back home to her store in Eastgate. She was honored as one of the inaugural class of TD Legends in 2015.
Brenda loves to walk, decorate, travel and camp. More specifically she just loves being outdoors. She is married, has one daughter, and a Yorkie who runs her household.
Brenda says: "Treat people how you want to be treated and the rest takes care of itself."
Frank: Visit him at our Wooster Pike location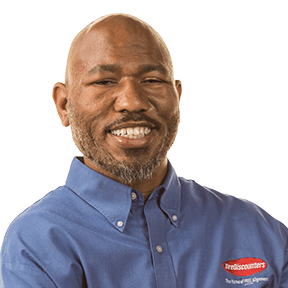 Frank started with TD in February 1999 as a tire tech while attending Cincinnati State studying auto service and management. He moved to the sales floor 2 years later. Frank spent almost 5 years at our Galbraith location, then became a floating manager for 3 years where he worked at nearly every Greater Cincinnati TD location at some point. He was given the opportunity to go back home to Wooster Pike as Assistant Manager in 2008, then ascended to Service Manager in 2009. He was crowned with TD Legend status in 2016.
Frank loves to travel as much as possible and he still loves his BMX bike. He also loves radio-controlled cars.
Frank says: "Be genuine and treat everyone like they're your family. Tire Discounters has always felt like my family and I genuinely love that. Bill (Chip's late father) would stop in every day to chat with me for 10 or 15 minutes to see how I was doing, and help mentor me about being a better employee and man. I will never, ever forget that."
Jerome: Visit him at our Cold Spring location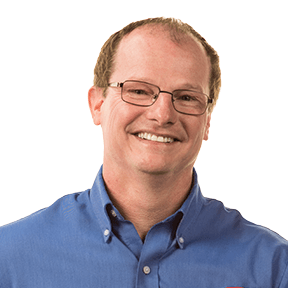 Jerome came to TD as an assistant manager in Florence in 1998. He worked at several stores including: Beechmont, Cold Spring and the famous Galbraith Rd store. While at Galbraith, he got to work with another future TD Legend Frank and they turned that location into the original training ground for new employees. After leaving Galbraith, he helped open 4 more stores over the next 10 years before returning back home to Cold Spring where he was honored to be part of the 2016 class of TD Legends.
Ironically enough, Jerome loves everything to do with fast cars. Who would have thought? He also loves to go fishing, ride BMX bikes with his son, 4 wheelers, dirt bikes and pretty much anything with an engine. He also tries to exercise and eat right. For those of you who miss the Phantom Tire Buyer, all you need to do is go see Jerome in Cold Spring. There's a rumor he dressed up as the Phantom for Halloween once. Don't tell him we told you though.
Jerome says: "Treat everyone like family and do the best you can with what you got."
Lane: Visit him at our Five Mile Location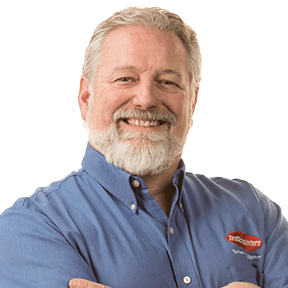 Lane came to TD in February of 1995 and began his tenure as a tire tech trainee. He spent a few years proving himself before becoming a floating manager and then General Manager. He managed the Beechmont location for 15 years, then opened the Five Mile location in September 2013 where he still resides. Lane was part of the inaugural class of TD Legends in 2015.
Lane considers himself an avid motorcycle enthusiast, and he loves to watch Formula One over SKYPE with his father who lives in Florida. He also loves bragging about having the best customers in the world right in his backyard in Anderson.
Lane says: "Rolllll Tide!!!"
Lorin: Visit him at our Maineville Location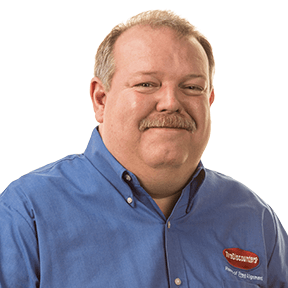 If this tells you anything about Lorin, his employee number is 0024. Lorin joined TD in October 1989 as Assistant Manager at the Galbraith Rd store when TD only had 2 locations. He has spent time managing Tylersville, Colerain, Dayton Mall and his home store in Maineville while also spending some time as a District Manager. Lorin, rightfully so, was part of the inaugural class of TD Legends in 2015.
In his spare time, Lorin plays with MORE cars, building classic antique hot rod cars. He is currently rebuilding a 1941 Plymouth coupe. He also loves target shooting on his family farm.
Lorin says: "Treat everyone like you want to be treated, plain and simple."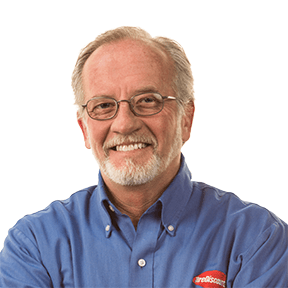 Roger became part of the TD family in September, 2005 as a General Manager. In his career at TD, he has personally opened 14 stores and managed countless others before finishing out the last 5 years of his career back home at Middletown. Roger was named as a TD Legend in 2016 and even though he has since retired, he will always be a TD Legend.
As a man of few words, Roger keeps it simple with his hobbies: cars, motorcycles and golf.
Roger says: "I have always gone by lead, follow, or get out of my way." (Which was then followed by a hearty laugh.)