Tire Discounters gives you the tools you need to succeed, whether it's the chance to manage your own store or tackle the corporate ladder. We are proud to say that we promote from within. In fact, 75% of General Managers come from internal promotions.
Check out the opportunities below. We're looking forward to meeting you!
Tire Technicians are responsible for diagnosing, repairing, and installing tires as needed on customer's vehicles. Tire Techs are paid on an hourly pay basis plus overtime and monthly SPIFFs. The Tire Technician effective rate is up to $17/hr+.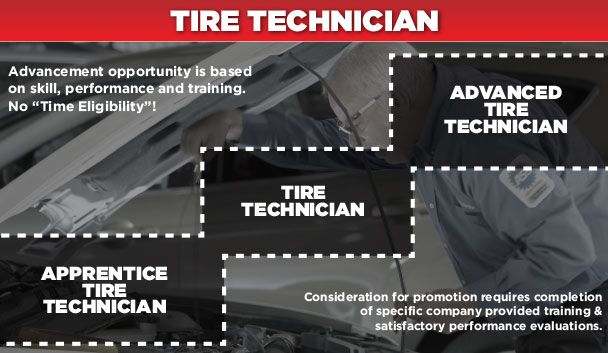 Responsibilities:
Install wheels and tires
Operate balancer & tire machine
Complete work orders and related paperwork
Maintain, organize, and clean shop and equipment
Assist customers and other co-workers as needed
MECHANICS/SERVICE TECHNICIAN: Apply Now
Mechanics/Service Technicians are responsible for both undercar and underhood work including but not limited to: shocks, struts, steering, alignments, brakes, routine and scheduled maintenance, drivability, LOF, brake fluid, coolant, transmission, power steering flushes, fuel system cleaning and more. A Tire Discounters Service Technician will make between $40,000 - $100,000+ annually. Pay is through a combination of base hourly + overtime + service commission.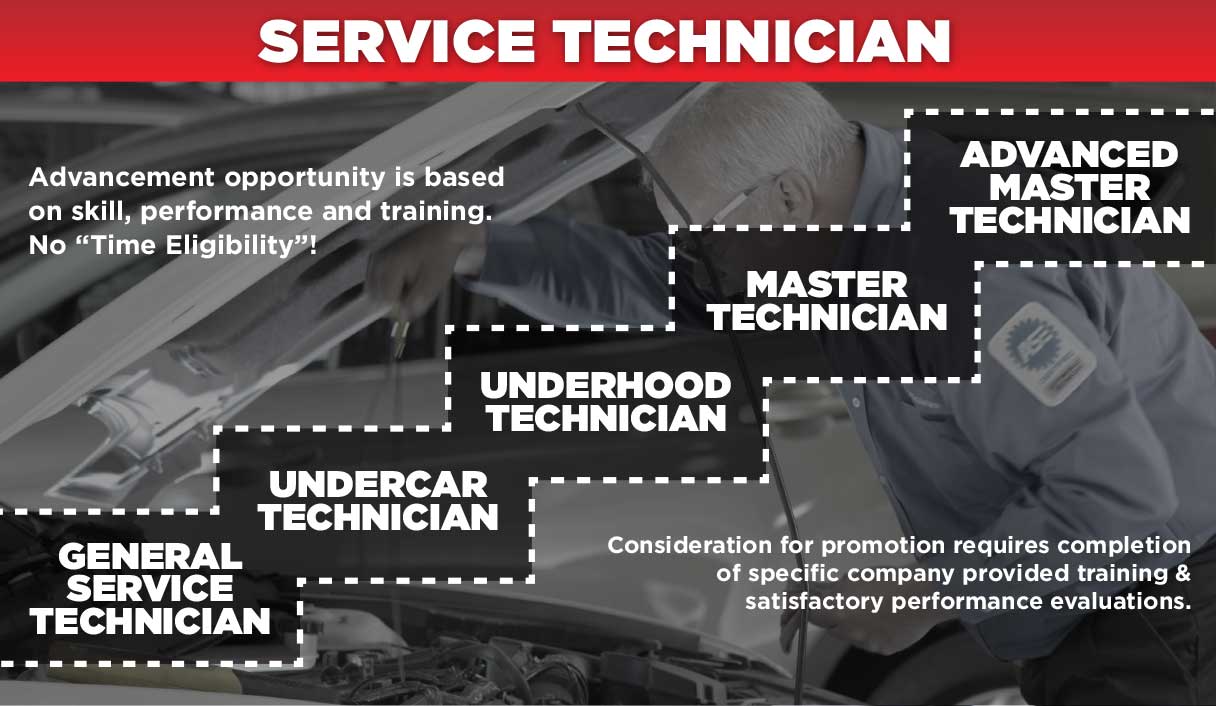 Responsibilities:
Provide accurate, high level and timely vehicle diagnosis, maintenance, and repairs.
Promptly deliver required service or repairs thereby meeting or exceeding customer expectations.
Test drive vehicles before and after repairs to ensure functionality and overall safety.
Identifies and promotes our company culture of cooperation and collaboration among all technicians. By doing so the Tire Discounter technician is both a teacher and student regardless of tenure.
Assist other teammates with other tasks as needed in order to consistently deliver on our minimal expectation of outstanding customer service.
Sales Associates work in a fast-paced, high-activity environment and are responsible for maintaining and achieving superior levels of customer satisfaction while increasing sales growth for their store location. A Sales Associate is responsible for creating a positive and memorable experience for every customer that makes contact with the store while engaging customers over the phone and in person. The Sales Associate reports to the General Manager. A Tire Discounters Sales Associate will make up to $60,000+ annually. Pay is through a combination of base hourly + overtime + monthly SPIFFs, and a monthly bonus.
Responsibilities:
Evaluate customer's needs and recommend products and services based on the specific needs and interests of the customer. Assess potential issues thoroughly.
Follow each customer ticket through to completion.
Providing Outstanding Customer Service to every customer.
Use problem-solving skills to address customer concerns and/or issues.
Maintain a positive attitude.
Take accountability for the presentation of the property including outside the store, in the store, shop and restrooms. Keep all areas organized, free of clutter, clean and presentable at all times.
Fills out paperwork fully and accurately following company policy and procedures.
Ensure sales growth for store location.
Make customer calls daily to increase sales opportunities.
Motivate colleagues to perform to their highest potential.
Assist in the shop as necessary.
The Service Manager is primarily responsible for developing and directing a team of Service Technicians and Tire Technicians in their respective job duties. He or She is responsible for holding the team accountable for performing the highest level of service on the vehicle as well as achieving Outstanding Customer Service results. Above all the Service Manager is held accountable for ensuring consistent and clear communication between the shop and the customers. The Service Manager Reports to the General Manager. A Tire Discounters Service Manager will make up to $80,000+ annually. Pay is through a combination of base hourly + overtime + monthly SPIFFs + monthly bonus.
Responsibilities:
Meet or exceed Tire Discounters Performance Standards for quality and speed of service for our customers.
Ensures continuous enforcement of Tire Discounters policies and procedures
Ensure all diagnostic procedures are followed and appropriate recommendations are given to the customers.
Enforce with all employees that the customer is our highest priority so that our integrity will never be questioned.
Evaluates performance of Service Technician and Tire Technician staff.
Gives recommendations on hiring and termination of shop staff.
Builds and maintains a team effort consistent with the goals of the company.
The role of the General Manager is to manage and direct the operations of a Tire Discounters retail location. The Store Manager owns the responsibility for the sales, profit results, and the quality of its operations in compliance with the company's policies and procedures for their assigned store. In addition, the Store Manager is responsible for recruiting, hiring, training, developing and evaluating the staff of the retail store location. This position reports directly to the Regional Manager. A Tire Discounters General Manager pay is up to $100,000+ annually. Pay is through a combination of base salary + monthly SPIFFs + monthly bonus + annual bonus.
Responsibilities:
Meet or exceed sales and profit goals
Insure continuous implementation and enforcement of Tire Discounters policies and procedures.
Attract, hire, train, develop, evaluate and retain store employees
Develop promotable employees
Exercise strong, fair, and consistent leadership with all employees
Delegate authority and subsequent ownership of functions as appropriate for the position.
Builds and maintains a team environment consistent with the goals of the company
Assist and perform other duties of absent employees as necessary.
Be a strong mentor and lead by example.
Protect company assets, cash, inventory, equipment, systems, and documents
Adhere to state, local, and federal laws
Maintain a drug-free workplace
Perform inventory control
Maintain store security
Handle merchandising and displays
Adhere to policies for work orders and invoices