Call for a free estimate 1-844-844-5277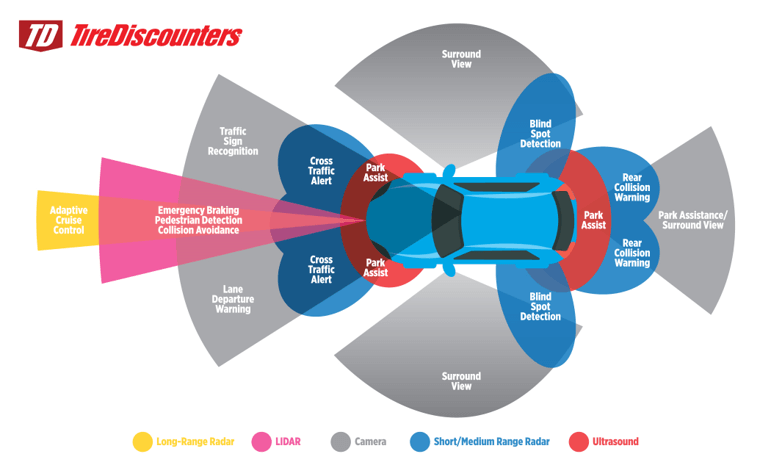 Dynamic and Static Recalibration Services Available on All Makes and Models
ACC - Adaptive Cruise Control
LDW - Lane Departure Warning
FFC - Forward Facing Camera
NV - Night Vision (Available for Mercedes Benz, Volkswagen, Porsche, Audi, and General Motors)
AVM - Around View Monitoring
BSD - Blind Spot Detection
RCW - Rear Collision Warning
Radar
Self-driving vehicles may be a few years away from road domination, but advanced technology systems inside these vehicles are starting to be commonplace in new vehicles. These features are called Advanced Driver Assistance Systems (ADAS) and are designed to automate, adapt, and enhance vehicle systems for safety and better driving.
These safety systems are specifically designed to avoid accidents by offering technologies that alert the driver to potential problems or to avoid collisions by implementing safeguards. From automatic parking to lane departure warnings to blind-spot monitoring, these new systems are improving safety for all drivers.
Located in strategic positions around the outside and inside of the vehicle, these systems have their own unique set of warning lights or sounds. Like blind-spot monitors, these are generally located on your side-mirrors and a warning signal lights up when a vehicle is in your blind spot.
One location specifically that has ADAS is your windshield. Advancement of technology and engineering has allowed our rear-view mirror to be more than a simple mirror. Cameras and sensors are now being built into the rear-view mirror which is attached to the windshield.
A very important factor to understand with windshields is that if your vehicle is not properly aligned to manufacturer specifications, your ADAS (safety systems) can be compromised. A replacement windshield that is slightly off, will significantly affect ADAS connected to your windshield.
Manufacturers recommend that ADAS needs to be recalibrated if body panel replacement or repair on your vehicle, replacement windshield installation, or front-end repair. If you have any of these three things done to your vehicle you should have your ADAS checked.
Tire Discounters is a leader in the Automotive Industry when it comes to tires, alignments, quality, and most importantly safety. We have trained experts on all ADAS systems and will work with all makes and models in which recalibration is available.