News
Tire Discounters Earns 2017 ADDY Award
This entry was posted on Mar 10, 2017 by Tire Discounters.
Family-owned tire retailer honored with a Silver Award for its social media presence
CINCINNATI (March 10, 2017) – Family-owned and operated Tire Discounters, the nation's eighth-largest independent tire retailer, was honored with a 2017 ADDY Award for its creative executions of brand advertising across social media.
The American Advertising Awards, commonly known as the ADDYs, is the advertising industry's largest and most representative competition, attracting over 40,000 entries every year in local AAF Club (Ad Club) competitions. Conducted annually by the American Advertising Federation (AAF), the local Ad Club phase is the first of a three-tier, national competition. Concurrently, across the country, local entrants vie to win ADDY Awards recognition as the very best in their markets.
"We're extremely honored and humbled to be recognized with this award," said Abbey Dryden, VP of Marketing for Tire Discounters. "Successful social media execution is integral to building strong, trusted relationships with our customers – which we pride ourselves on developing every day. I'm so proud of our team and their efforts."
With 40 years of business under its belt, Tire Discounters is renowned for its tongue-in-cheek changeable copy signs and clever, quirky approach to advertising – highlighting animal mascots with puns that have garnered a laugh from even the most stoic onlookers. On social media, Tire Discounters listens intently, it responds quickly, and sometimes does something a little unexpected, like answer customer questions in the form of a changeable copy sign or funny GIF.
Tire Discounters has an active presence on Facebook, Twitter, Instagram, Yelp, YouTube and Google Plus. Check out a fun example below.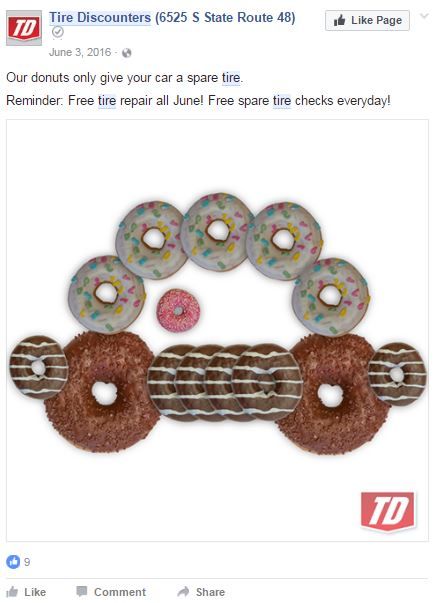 # # #
About Tire Discounters
Established in 1976 with a single, one-bay store on the east side of Cincinnati, Tire Discounters is the nation's eighth-largest independent tire retailer. The company leads the way in providing unique and innovative customer benefits designed to make tires last longer and maximize the overall performance of a car or light truck. Tire Discounters' ASE-certified technicians provide routine automotive repair and factory scheduled maintenance. Tire Discounters currently employs more than 1,100 people in more than 100 locations in Ohio, Kentucky, Indiana, Tennessee, and Georgia. For more information, visit www.tirediscounters.com.