News
Tire Discounters Opening Fishers Location in Time for Labor Day Travel Prep
This entry was posted on Aug 31, 2019 by Tire Discounters.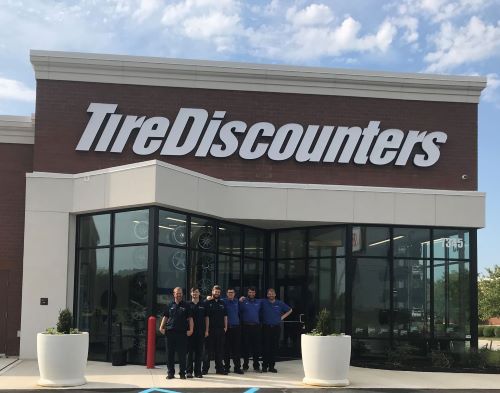 Tire Discounters Opening Fishers Location in Time for Labor Day Travel Prep
Now with five convenient locations serving neighborhoods across Indianapolis
Family owned Tire Discounters, the nation's seventh-largest independent tire, and automotive service retailer is planning to open its newest location in Fishers on Saturday August 31st. The location is fully staffed and ready to help travelers prepare their vehicles for Labor Day weekend. The new location is the fifth of eight Tire Discounters stores scheduled to open in Indianapolis this year. "We're committed to helping Indianapolis become a safer place to drive. We believe at 70 miles per hour details matter; that's why our ASE and TIA certified technicians complete courtesy safety inspections for every customer," says Charles Curlee, vice president of sales.
Each Tire Discounters store employs 10-12 local folks including sales professionals, management, and ASE certified service technicians that perform all undercar and underhood automotive maintenance services. While the Fishers location is fully staffed and ready to serve customers on opening day, Tire Discounters is hiring entry-level and experienced automotive professionals for additional Indianapolis area stores planned to open in late 2019.

Open Saturday August 31: 7435 E. 96th Street Indianapolis, IN 46250 (317) 436-9980

About Tire Discounters
Tire Discounters was founded by Chip Wood in 1976 and is still family-owned and operated. Chip remains the sole owner and company Chairman, but over the past several years has been smoothly transitioning to the second generation of leadership. President, Jamie Ward, a valued employee for over 20 years, is now the driving force in the company day-to-day, working very closely with Steven Wood, Chip's eldest son. Steven's sister and brother, Anna and Evan Wood, are also working in the company, learning the business from the ground up.
Tire Discounters is currently the nation's seventh-largest independent tire retailer and is growing rapidly. The company leads the way in providing unique and innovative customer benefits designed to make tires last longer and maximize the overall performance of a car or light truck. Tire Discounters' ASE-certified technicians provide routine automotive repair and factory scheduled maintenance. Tire Discounters currently employs more than 1,200 people in over 120 locations in Ohio, Kentucky, Indiana, Tennessee, Georgia, and Alabama. For more information, visit www.tirediscounters.com